POWER – SMOOTHNESS – ENGINE LONGEVITY
The URD 7th Injector Kit Kit for the Toyota 3.4 V6 equipped with the NEW Magnuson TVS-1320 Supercharger.  NOT FOR THE OLDER TRD/MAGNUSON MP62 Supercharger.

Increase Torque
Increase Horsepower
Eliminate potentially engine damaging High RPM Lean Out
In most cases, eliminate High Gear / Low RPM Ping
Provides the needed part throttle boost enrichment
We are often asked why we offer two different fuel kits for the TRD Supercharge for the 5VZ.  Our original product when we started URD was the Fuel Upgrade Kit that replaces all 6 injectors with larger ones.  That is a great kit, but we found that using a simpler approach and using a single additional injector works better.  The 7th injector kit has better altitude compensation, it is easier to install, and the pre-loaded start up program is good for 99% of the trucks out there and almost never needs any additional tuning by the end user.
Another great benefit of spray the fuel through the rotor assembly is that will evaporate and take a good bit of heat out of the air being compressed by the rotor assembly.  This can increase effective boost and cool the compressed air resulting in increased performance. This feature is very beneficial when running higher boost URD SuperGrip Supercharger Pulleys.
URD recommends the URD 7th Injector kit for all 5VZ-FE applications that have the MAGNUSON TVS 1320 Supercharger installed.  The only vehicles that we recommend our original 6 injector fuel kit for are the older ones that are equipped with an Exhaust Gas Re-circulation (EGR).  The reason for this is that we mount the 7th injector into the EGR port on the supercharger.  If that port is occupied with an EGR valve the URD 7th Injector Kit will not fit.
URD's customers have long enjoyed benefits from URD's Fuel Upgrade Kits including: increased horsepower & torque, smoothness, end user tunability, the elimination of high RPM lean out, and in most cases the elimination of high gear/low RPM ping. Power gains are usually in the 30-40 hp range and sometimes higher depending on how lean your truck is currently running.
URD's 5VZ 7th Injector kit is fantastic for any truck running a higher boost pulley, or anyone who wants optimal truck performance.
Note: It is recommended that any EGR equipped trucks use URD's original Fuel Upgrade Kit.  THIS KIT WILL NOT FIT ON TRUCKS WITH AN EGR SYSTEM
The URD 7th Injector System is compatible with both the 1st Gen (gray) and the 2nd Gen (black) TRD 5vz Superchargers for the following vehicles:
3.4 liter Tacoma 1997-2004 (non EGR)
3.4 liter 4Runner 1996-2002
3.4 liter Tundra 2000-2003
3.4 liter T-100 97+
PARTS LIST:
URD Performance Calibration Unit – AIC/Timing Calibrator with built in part throttle boost enrichment module x1
A preloaded map that will cover the stock 75mm and the URD 70mm pulley.  (Development is continuing for use with even smaller higher boost URD Pulleys.  Smaller pulleys may require different mapping and components.  To be determined)
Heat shrink tubing for AIC/Calibrator Installation x6
Assorted small and large wire ties
Vehicle specific wiring connection guide for AIC/Timing Calibrator x1
Vacuum line assembly for AIC/Timing Calibrator x1
Injector harness x1
Additional injector preassembled in injector mount x1
Gasket for injector mount x1
Socket headed cap screws (M8x20mm stainless) x2
Fuel line assembly with fuel line T fitting x1
High Flow in tank fuel pump with install kit x1
Fuel line clamps x2
Two step cooler Denso Iridium Power spark plugs x6
URD vinyl sticker x1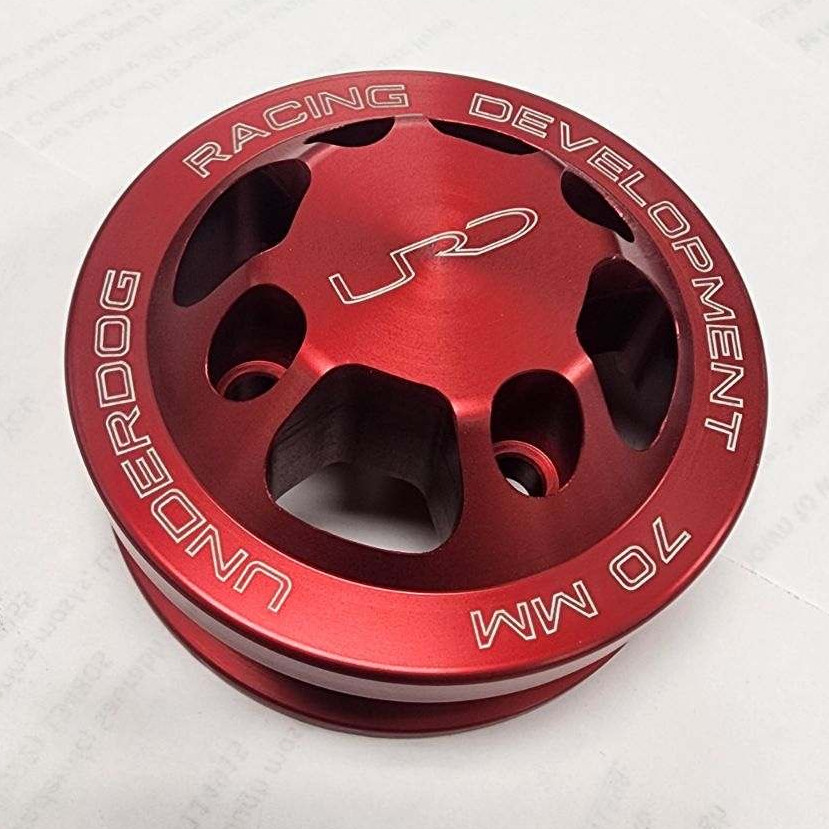 You have the option to add the URD 70mm supercharger pulley at a discount when ordered with this 7th injector kit.   Details on the pulley can be found here
When placing your order, please place your vehicle information in the comments box in the check out.  We need to know what vehicle and year it is so we can include the correct vehicle specific installation guide.
Legal in California only for racing vehicles, which may never be used upon a highway.  This kit is not CARB Exempt.